In Southern California it's all about tacos. This is one of my favorite condiments.
I always have a lot of radishes in my garden come Spring. It's mostly because they're easy to grow, and I'm still working on my green thumb.
Here's one of the things I like to do when I have a whole bunch of radishes at once. I also like to make these spring rolls.
Perfectly spicy, crunchy and pickled, these radishes are lovely on tacos, sandwiches or just eaten alone. Plus they are super easy and really only take few minutes to make.
Have fun!

---
Pickled Radishes for Tacos
ingredients:
Makes a large mason jar full
about 1.5 lbs radishes
1 cup vinegar
2 Tbsp kosher salt
2 Tbsp sugar
1/8 tsp red pepper flakes
1 cup loosely packed, chopped cilantro
1/2 seeded jalapeno (leave out for a less spicy pickle)
directions:
In a small pot, bring vinegar, sugar and salt to a boil to dissolve. Add red pepper flakes and set aside to cool.
Trim radishes and slice thin.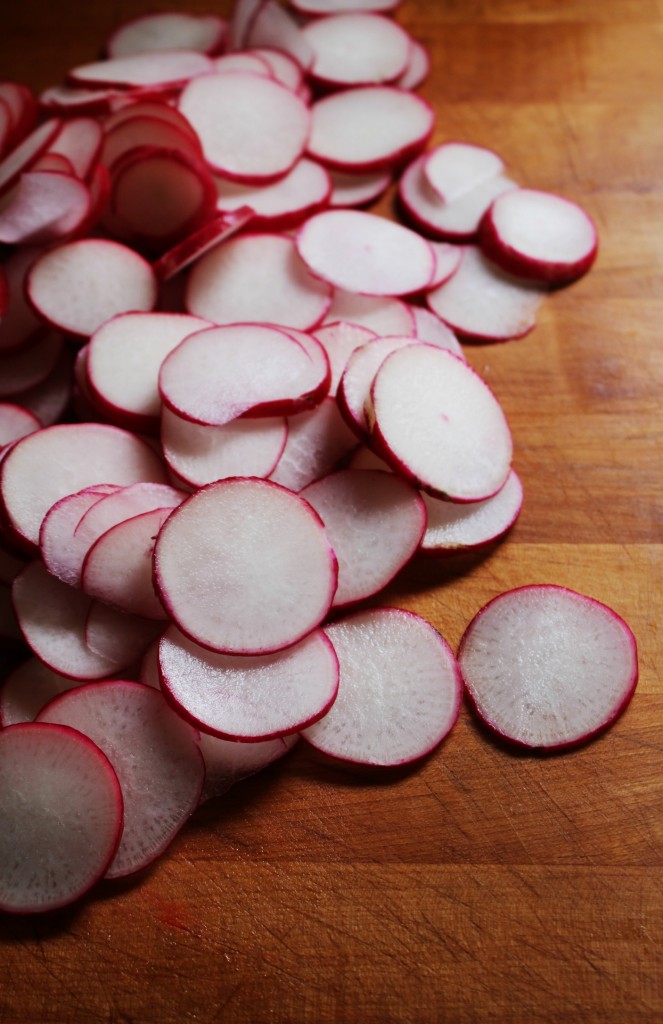 3. Fill mason jar with radishes, cilantro and jalapeno, layering to evenly distribute.
4. Pour over cooled pickling liquid. Seal and refrigerate. Wait 24 hours to let flavors do their thing before using.